Ovidio Asador Malaga
A Culinary Expedition into Meaty Delights
Ambience
Ovidio Asador Malaga Nestled in the heart of Málaga at C. José Denis Belgrano, 11, Ovidio Asador beckons carnivores to embark on a culinary journey into the heart of prime beef indulgence. The restaurant's interior, adorned with rough plasterboard, emanates a nostalgic charm, creating a rustic and cozy dining atmosphere.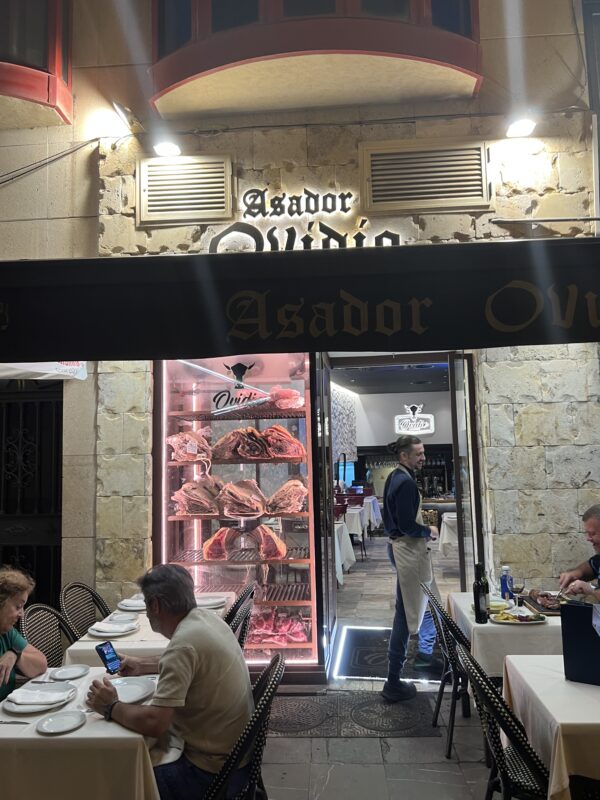 The sight of prime beef cuts in an expansive fridge sets the stage for a delightful evening of steak indulgence.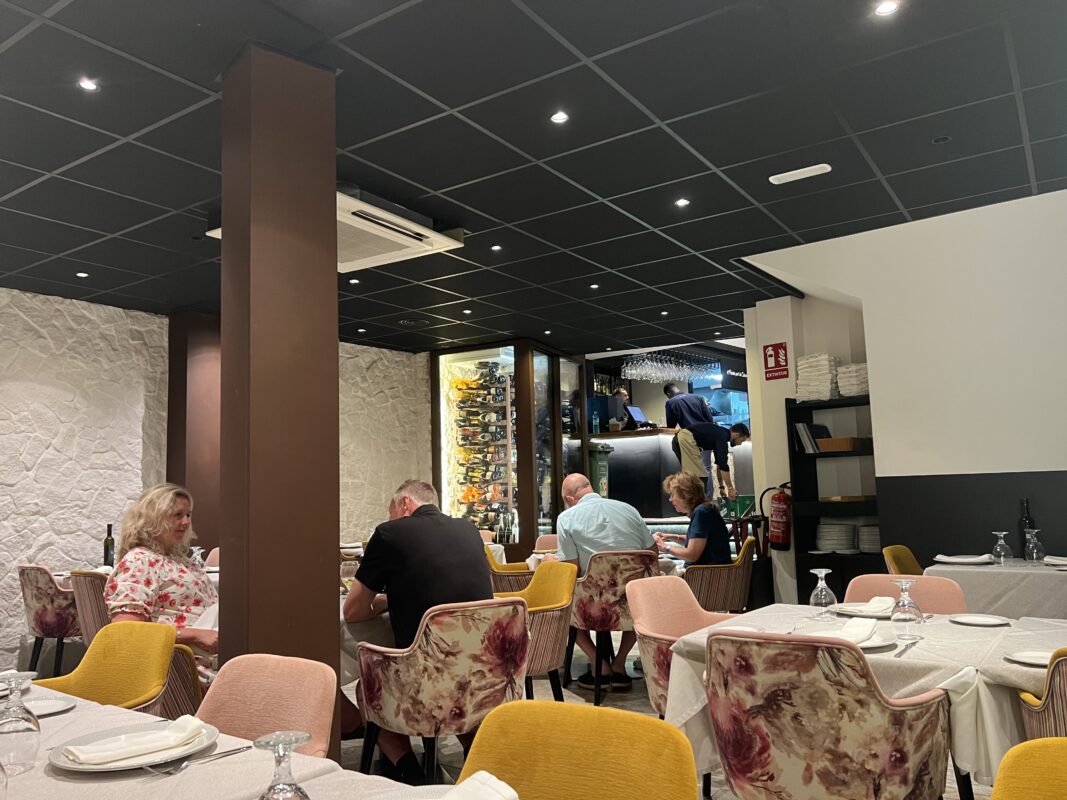 Food and Wine Selection
Ovidio Asador offers an extensive array of Spanish wines, perfect for wine enthusiasts seeking the perfect accompaniment to their meal. The menu unfolds with offerings ranging from salads and tartars to traditional dishes like padron pepper. However, the real allure lies in the grill meat menu, featuring exquisite choices such as: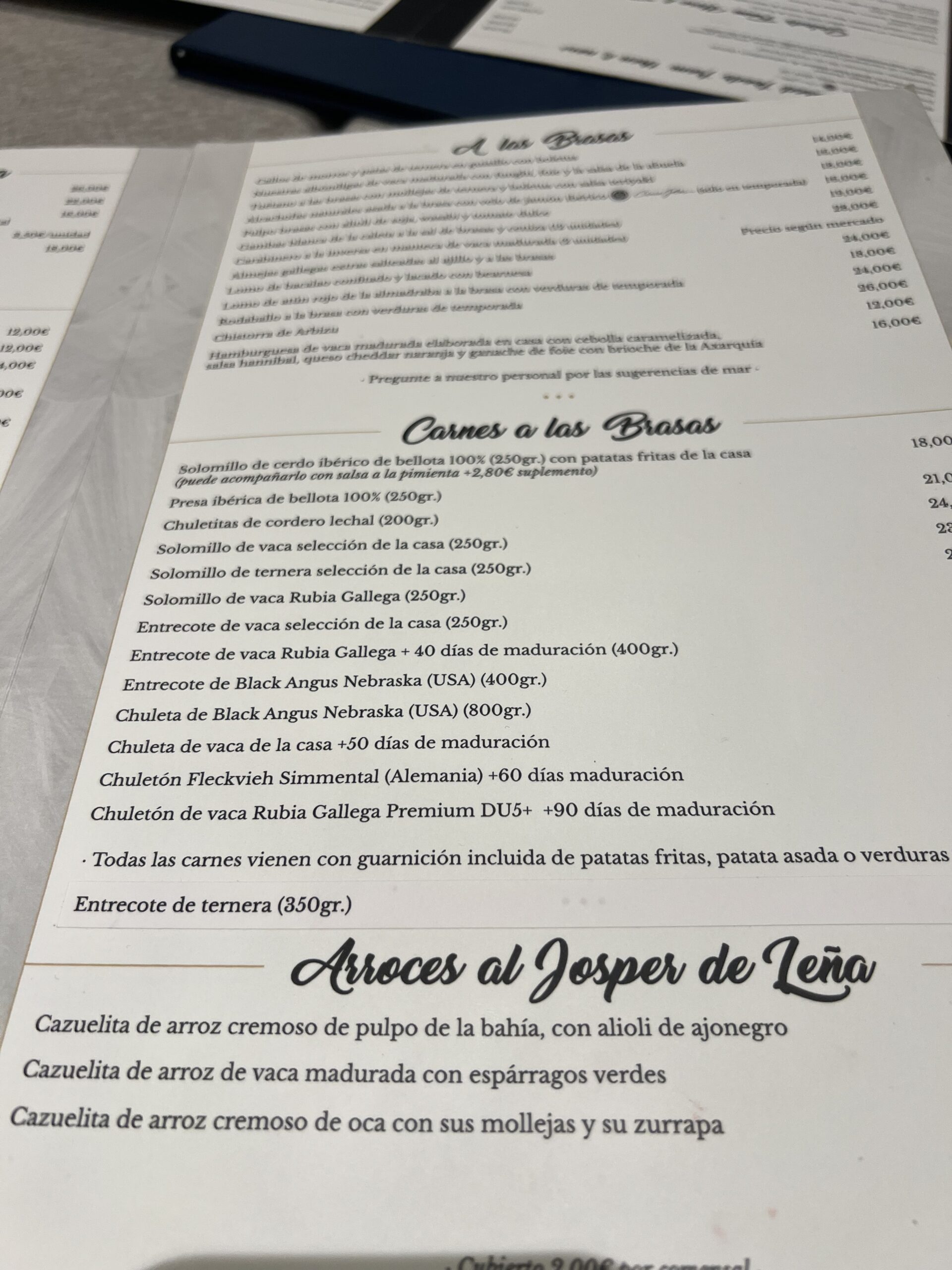 The menu unfolds with offerings ranging from salads and tartars to traditional dishes like padron pepper. However, the real allure lies on the right side—the grill meat menu. Three-quarters of this section feature pre-cut selections ranging from 250gr to 400gr, while the final part, my personal favorite, showcases exquisite choices:
House-selected beef: Ribeye steak +50 days aged at €60/kg
German Simmental 60+ day aged at €75/kg
Premium DU5+ Galician blonde +90 days aged at €90/kg
Each meat dish comes accompanied by side delights, including French fries and baked potatoes.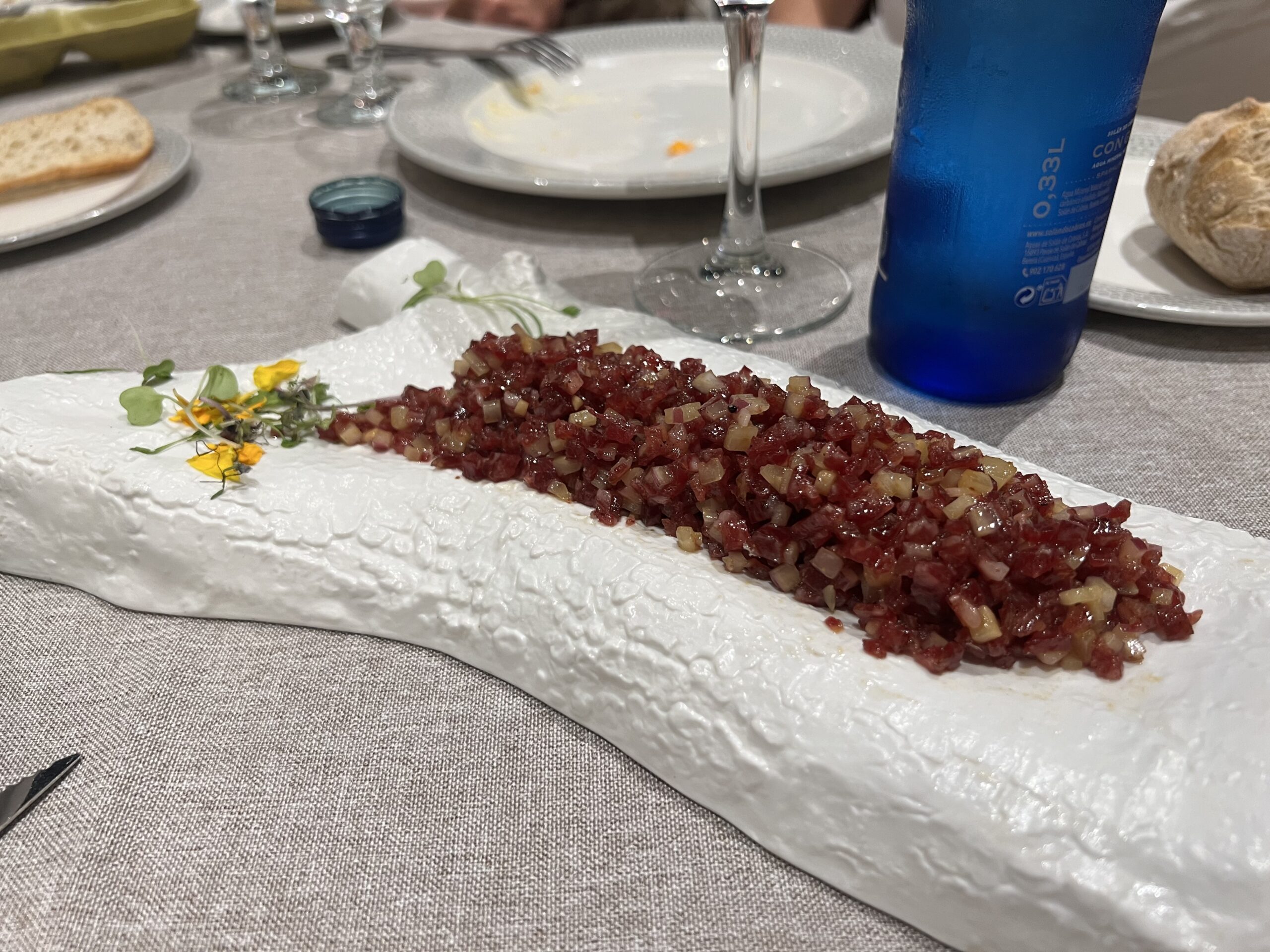 Starters
Our culinary adventure began with a selection of starters:
Russian salad: A miss, lacking the vibrant flavours found in Malaga's best.
Beef carpaccio: A small yet delicate portion dressed with garlic mayonnaise and a hint of truffle—a highly recommended starter.
Salsiccion de Malaga: An interesting blend of cured sausage and onions.
Grilled pink prawns: Despite a somewhat lacklustre presentation, they contributed a simple touch to the overall dining experience.
Main Course
Tasting into Premium Cuts
For the main course, we opted for a tasting journey with 1.5kg each of: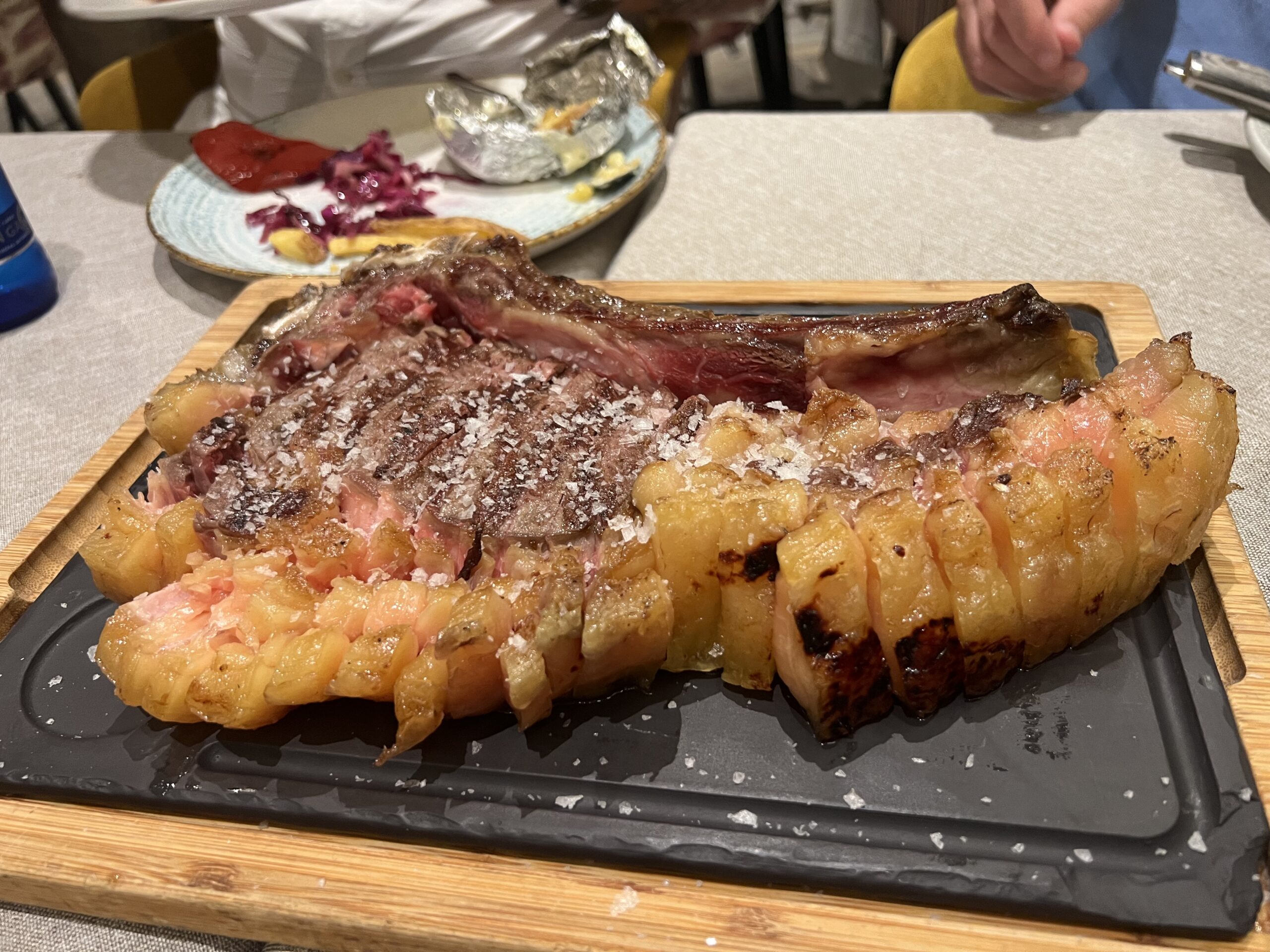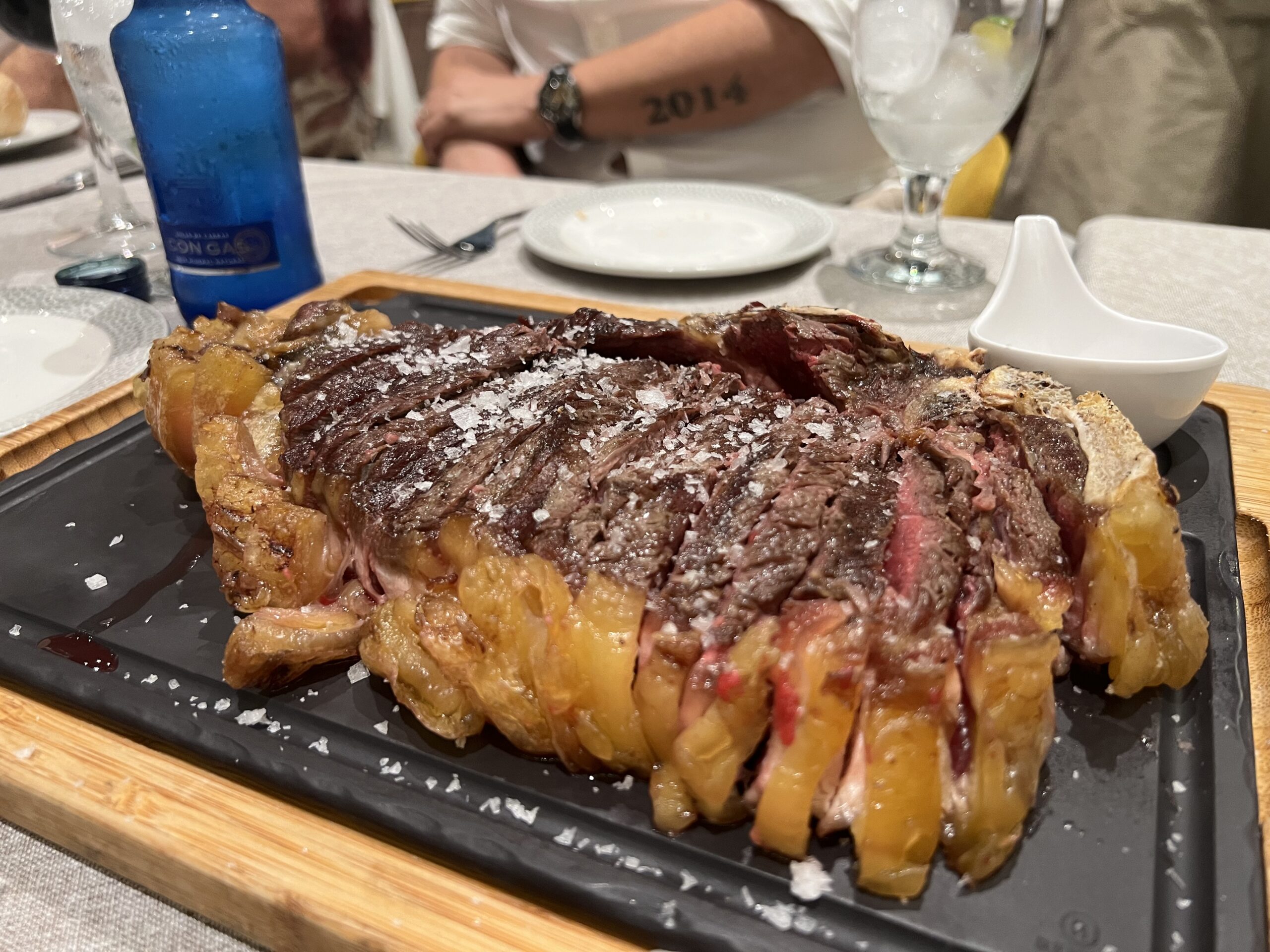 The quality of the meat was commendable, cooked to a delightful medium-raw. However, a noticeable drawback emerged—one-third of each steak consisted of unrendered fat. The potential decadence of this fat was overshadowed by its lack of crispness. Acknowledging this, we specifically requested the return of the fat for additional cooking. Although the result was an improvement, achieving the desired level of crispness remained elusive. Personally, I believe a more balanced fat ratio in the steak would enhance the overall dining experience.
Service
Politeness Meets Oversight
Service within the serene setting lacked meticulous attention to detail, necessitating gentle reminders for unmet requests. This observation prompts contemplation on the potential service level during busier hours.
Conclusion
The meat quality is undeniably good at Ovidio Asador, but a more thoughtful approach to preparation, especially concerning fat rendering, is warranted. Service, while polite and friendly, lacks the expected spark, with occasional oversights even in a serene atmosphere. The selection is good, though not the most extensive in town. The Spanish wine list is commendable, offering a diverse range to suit various preferences. The restaurant offers a fine dining experience at an affordable price range.