The Grill | modern British cuisine | at the Dorchester Hotel in Mayfair London
Posted On 29th June 2020
Indulge in the best of London's fine dining at The Dorchester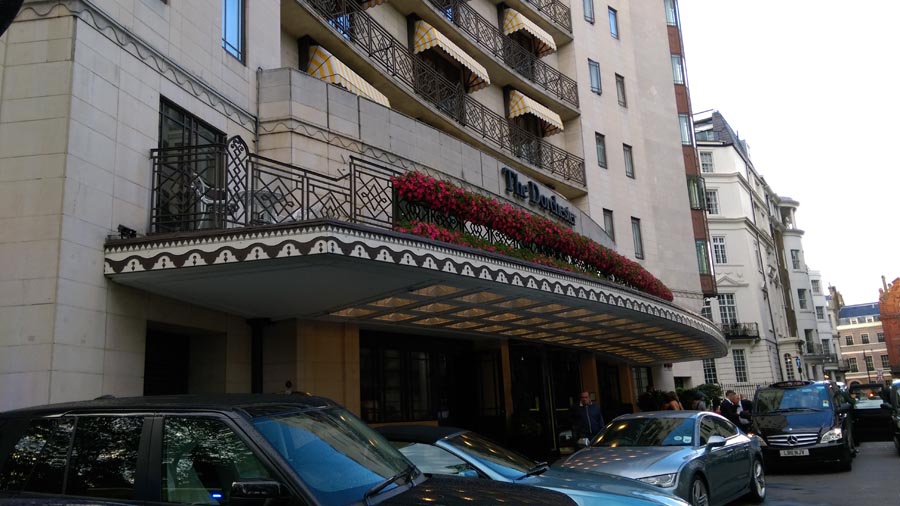 While staying in London, you would have missed the royalty if you didn't visit "the grill at the Dorchester".
Established in 1931, it is a modern British grill restaurant that serves the finest food in London. It is dine-in in one of the best hotels in Mayfair, London next to Hyde Park. Chef Alain Ducasse's protégé Christophe Marleix has created new seasonal menus while keeping the touch of the original concept as well. It holds threes star (top ranking) in the Michelin Guide.
Food
I dine at "the grill at the Dorchester" with my wife and we ordered a dinner set at The Grill at the Dorchester for two course £58 (£29 – for each) I found the whole meal to be in good flavours and it was good value for money for me. I like what they offered although I was expecting more from haddock, if it were a little more then, it is what I would have enjoyed in my whole meal. A tasteful two-person dinner meal with the main course (Seared Cos with -haddock with Caponata- and Mussel) for me and (roasted pork belly with potatoes onion and lettuce) for my wife and deserts.
Starter
I got appetizer as Amuse-Bouche Smokes Salmon, it was tasty and made with dedication that the chef took to touch the brink of perfection.
Rate: 6.5 / 10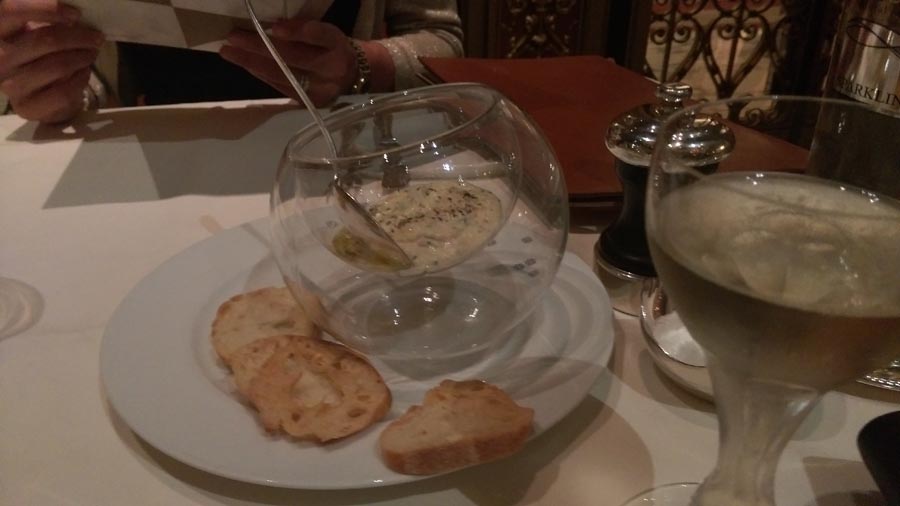 The veloute that was serve was rather cold with a nice piece of bacon making a balance of saltiness with the sweetness of peas on our taste buds. To top it off there was a quail egg placed at the center of it.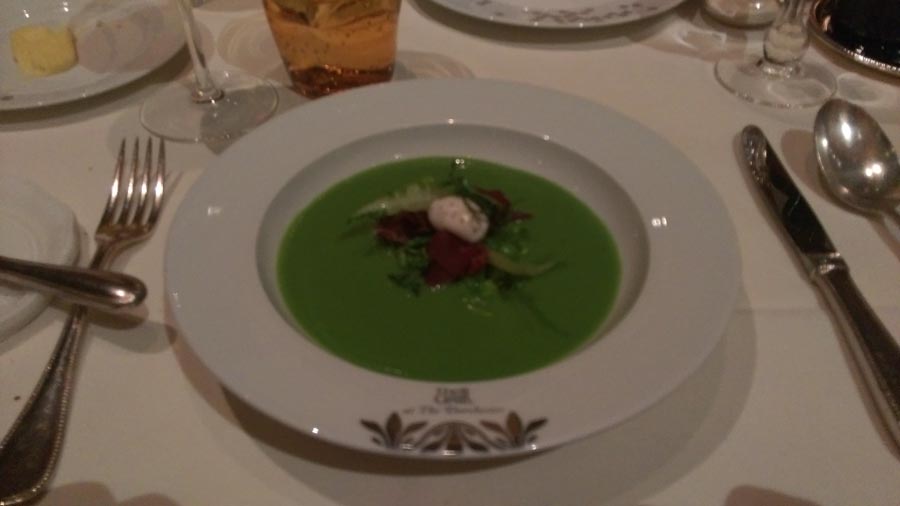 Main Course
I thought that having Seared Cos with Caponate and Mussel would be an interesting meal but for me the haddock was without a taste, I didn't enjoy it because I was hoping for a little more flavor in it, the caponata was tasteless and eventually I thought I could only dream of caponata because it wouldn't be coming true here at the grill.
Rate: 5.5/ 10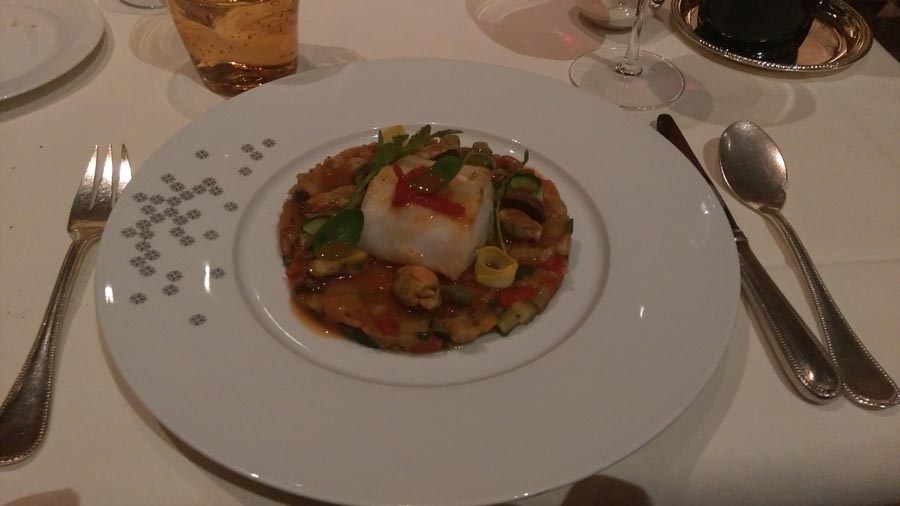 My wife got roasted pork belly with potatoes onion and lettuce; the pork was very tender and juicy but I didn't get much excited because it was just fine for my my taste. I would prefer it with a little bit more crispy skin so that you could feel texture in the dish; (crispy outer with a tenderness inside).
Rate: 6 / 10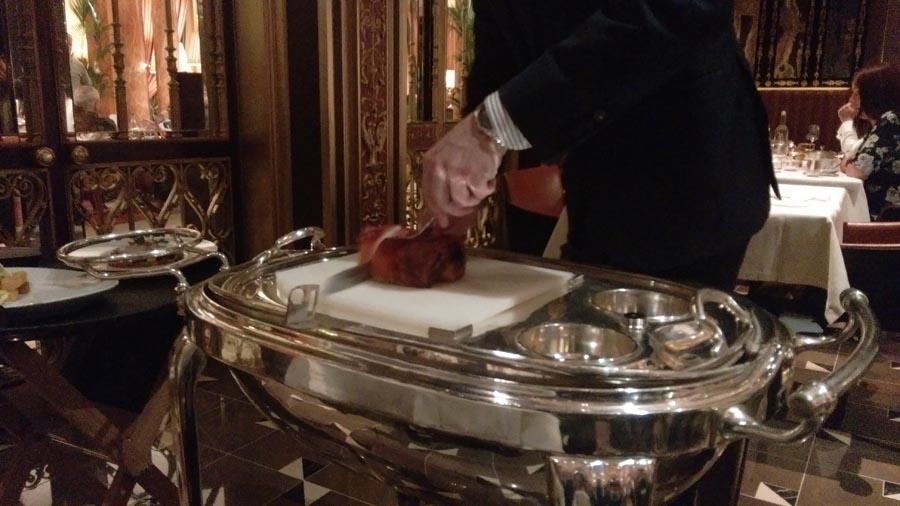 Wine
I got a good strong bottle of full Spanish Wine (Pina Fidelis) with 14% alcohol. It set down an exciting taste in our mouth because its acidity was stirring flavors with roasted pork and cheese. One thing I will credit is that the timing was also very much perfect because we order soufflés afterwards.
Rate: Good value for money £30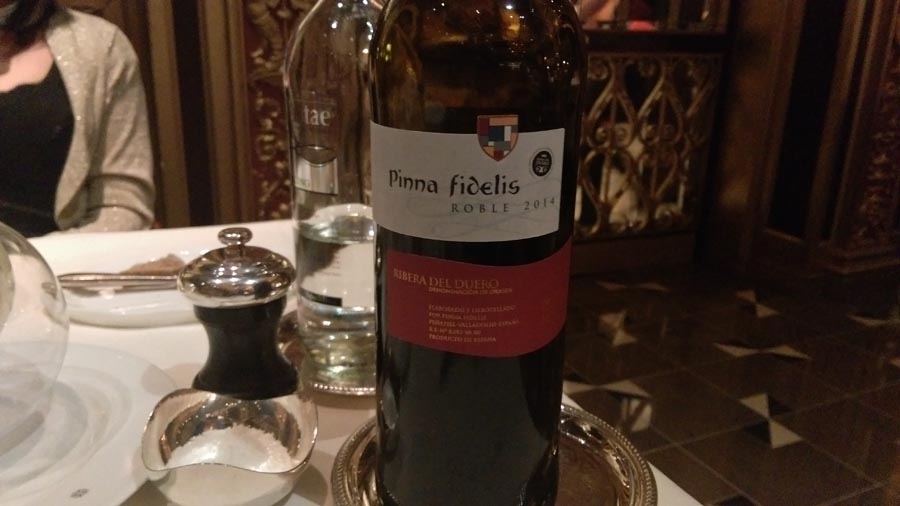 Cheese platter
We ordered two types of Cheese.
Blue stilton: it thought I was a little aggressive, if they would have kept a lower notch on the sourness, I would have appreciated.
Mature cow cheese: there was nothing exciting about it, it had very mediocre taste.
Rate: 6 / 10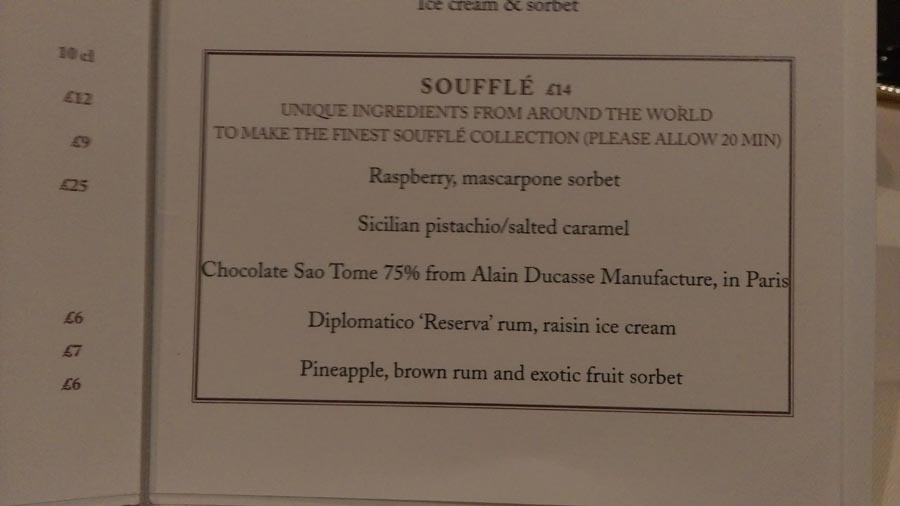 Dessert
We ordered individual deserts out of the courses. So we ordered two soufflés
Sicilian Pistachio/ salted caramel: I found a taste of lingering saltiness because of the pistachio in it. Otherwise, soufflé was sweet but the magic started when you combine the salty caramel that comes with its amazing combination of sweetness and saltiness. When you keep both the flavours alternatively in your mouth and the seam of soufflé and coolness of ice-cream is felt, that's where the greatness lie.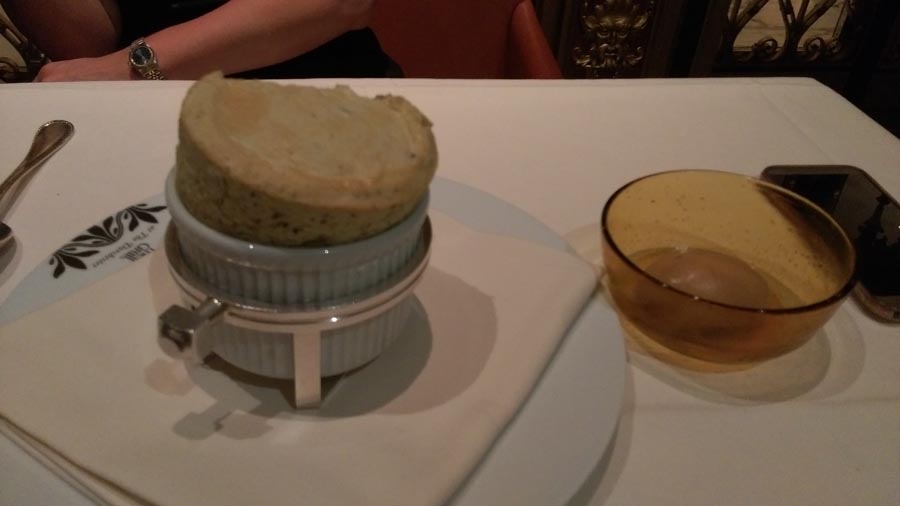 Choclate Sao Tome (75% from Alain Ducasse Manufacture, in paris): although it was named right from paris but it had no difference for me because it tasted like any other soufflé, though it did come with dark chocolate ice-cream.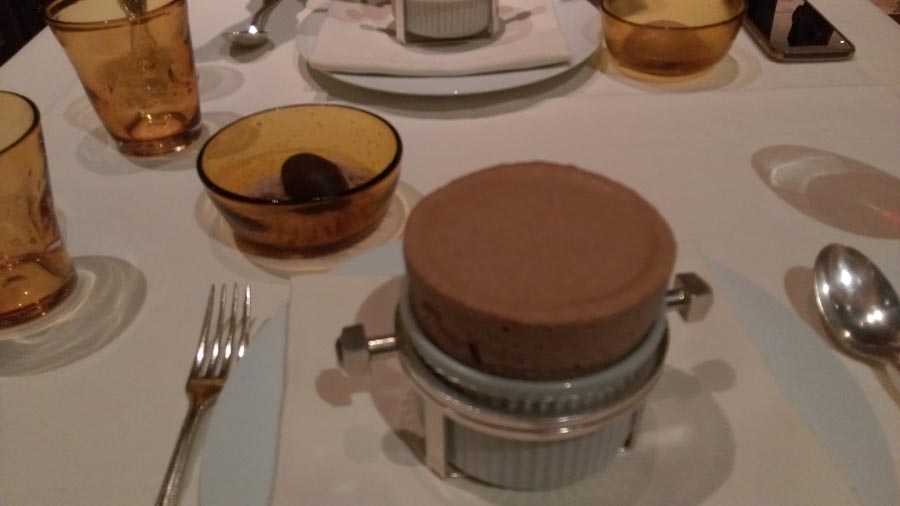 Yogurt Strawberry and Basil: The yoghurt was a having a sweet flavour with a touch of sourness of strawberry and the basil were adding freshness in it; for me, it was a good combination.
Espresso
I never expect more out of UK when it comes to having an espresso. There is nothing special about it.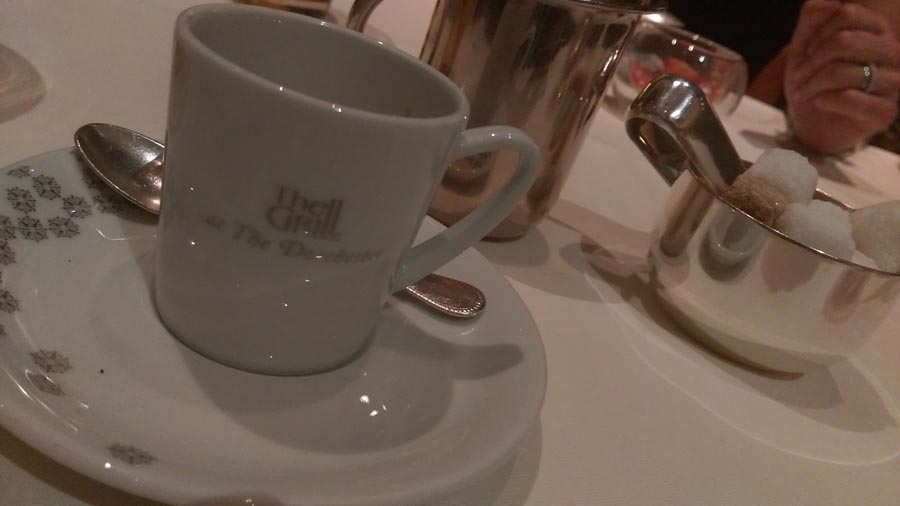 Service
At The Grill at the Dorchester the service was good, our waitress was friendly and welcoming.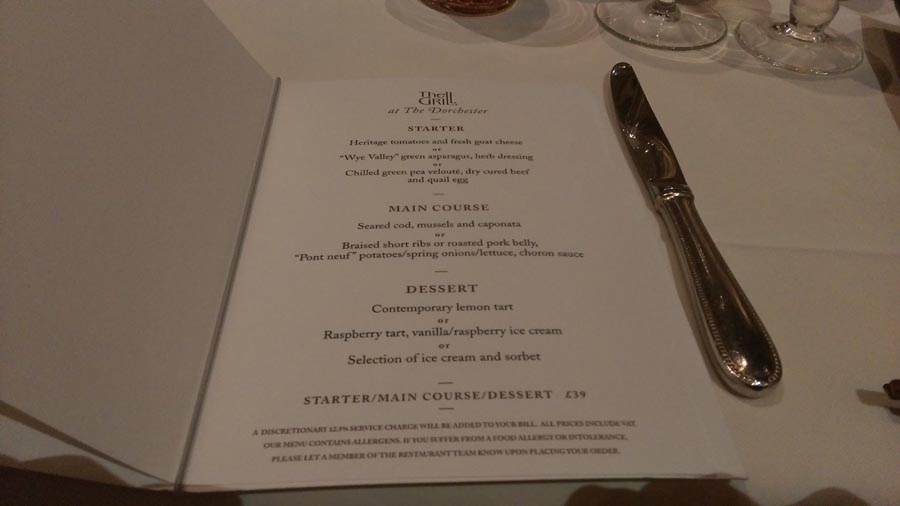 Ambiance
The ambiance was dim and I felt the interior of the restaurant was decadent, it was all filled with mirrors and everything was with contrasting natural material of copper, zinc and marble. Although the butterscotch leather was complementing the oak parquet flooring.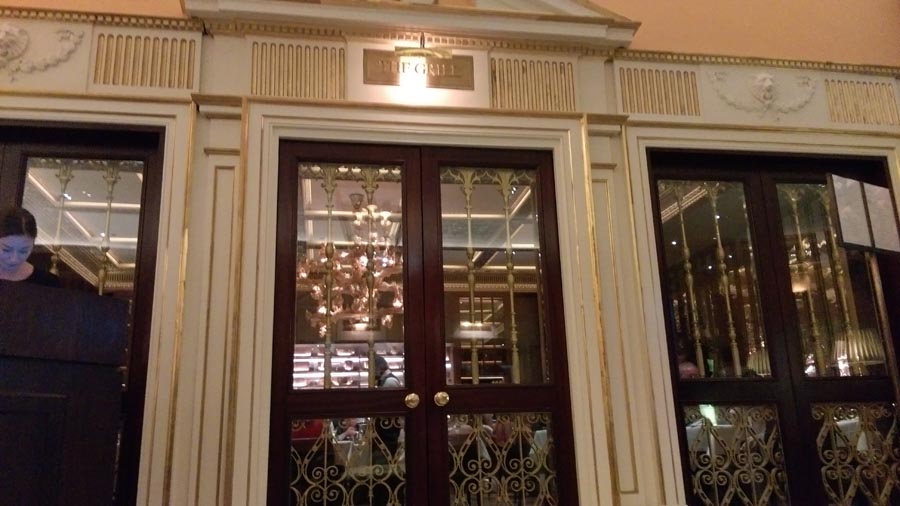 Food Rating
I will rate this 2.9 out of 5 on my scale.
What I paid
Two main course meal for two people with dessert and a bottle of wine at (£177.75)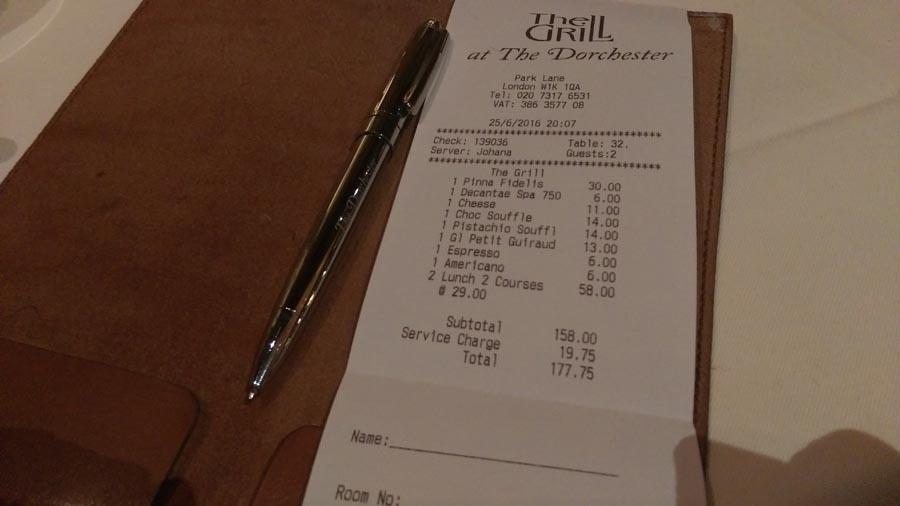 Overall
I found the experience of The Grill at the Dorchester rather good as I expected; the food was good I enjoyed it but it was not that spectacular. The ambiance and the setting of the environment were light and comforting and the service was marvellous. I felt that all of these factors were accompanying the perfect experience you could desire in London.
Highlight of the evening
It's was pistachio soufflé that the chef put some of his time to think beyond it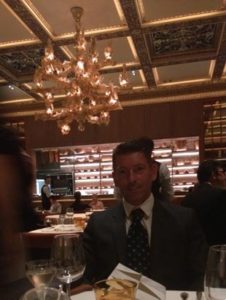 More about JP
Jean Paul was born in Italy. The passion for food it has always been in the family and he have been brought up tasting and trying food since early age. Growing up in this environment made him be appreciative for everyday life. He experience and taste dishes going from the plainest and simple food stall market up to the top end 3 Michelin stars restaurant. Giving an honest impartial review of their food, service ambience and price and share all with his readers
Save
Save