Ossiano Restaurant review: Discover the fine dinning Dubai Experience
Overview of the this Michelin-star Restaurant
Ossiano, located at Jumeirah Beach, has earned its rightful place as one of the most distinguished dining establishments in the city. What sets Ossiano apart is its groundbreaking underwater dining concept, which has elevated it to the status of a truly unparalleled destination for culinary enthusiasts and adventure seekers alike.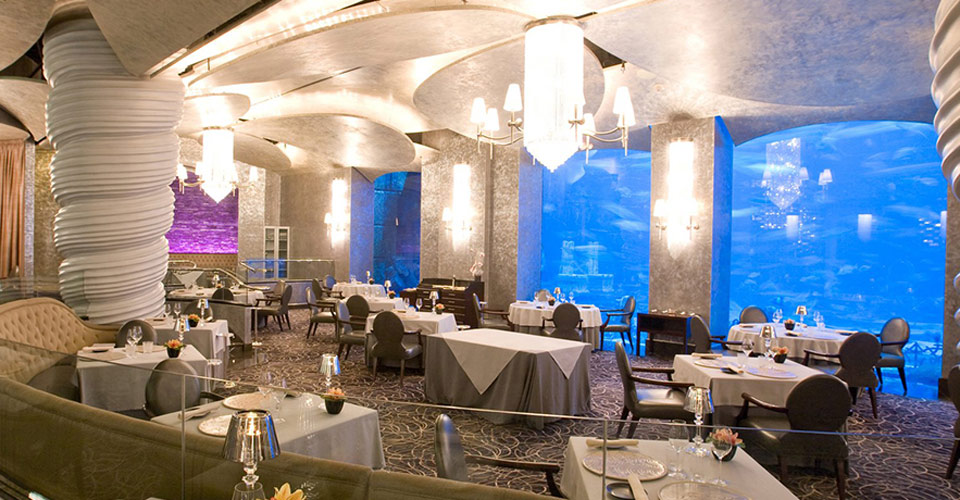 Upon entering Ossiano, you'll be captivated by a grand spiral staircase that leads you to the main dining area. Here, the attentive waitstaff will guide you through a meticulously structured dining experience.
Ossiano restaurant The menu
I ordered the experience menu, a six-course tasting menu, to have a better idea of the food in the restaurant.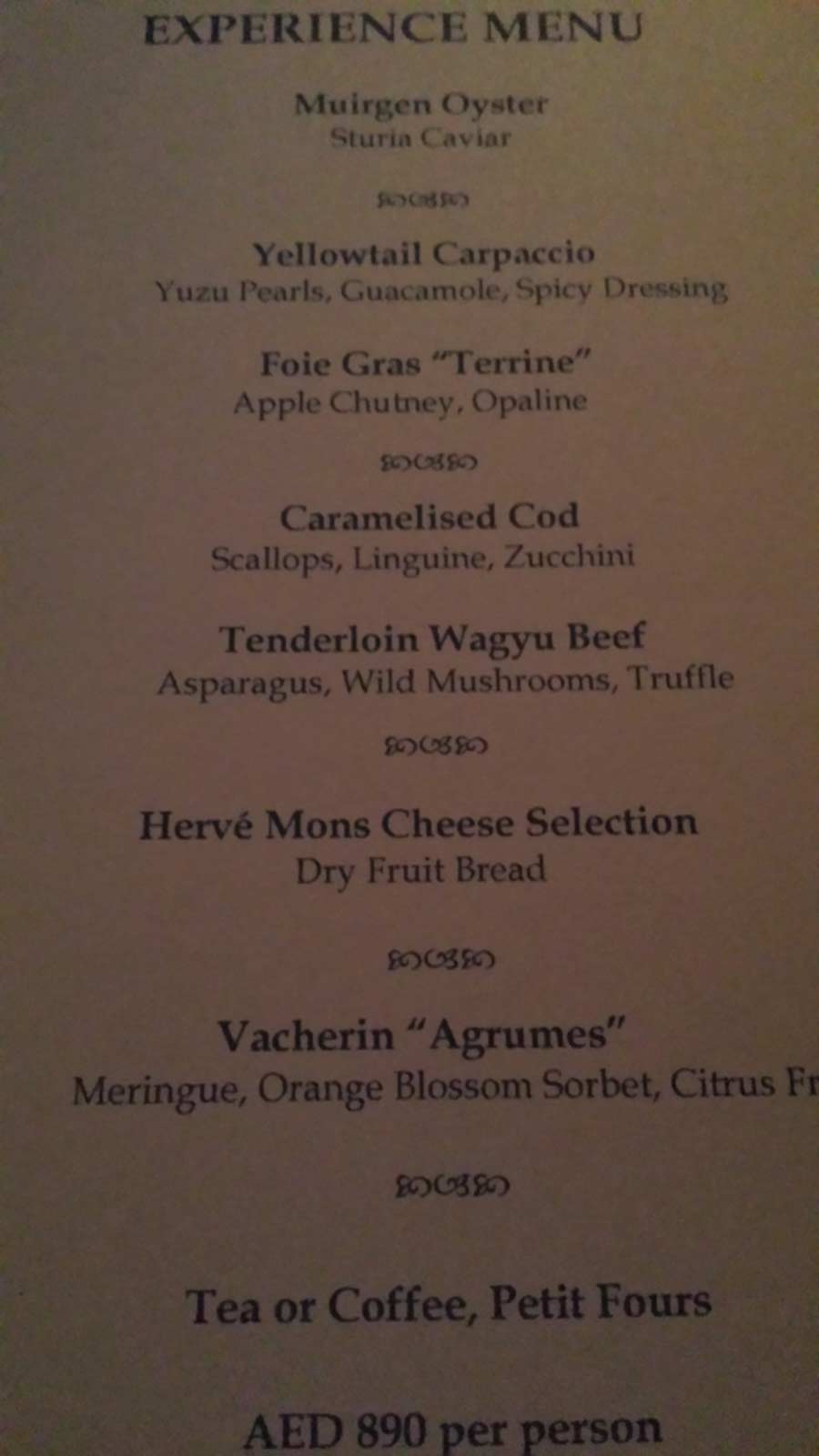 OSSIANO THE FOOD
Ossiano Oyster
The Oyster was well presented on a big bed of ice, very fresh, but unfortunately, the Chef decided to add melon, which for me, wasn't working at all. The melon had the effect of watering off the taste of the Oyster.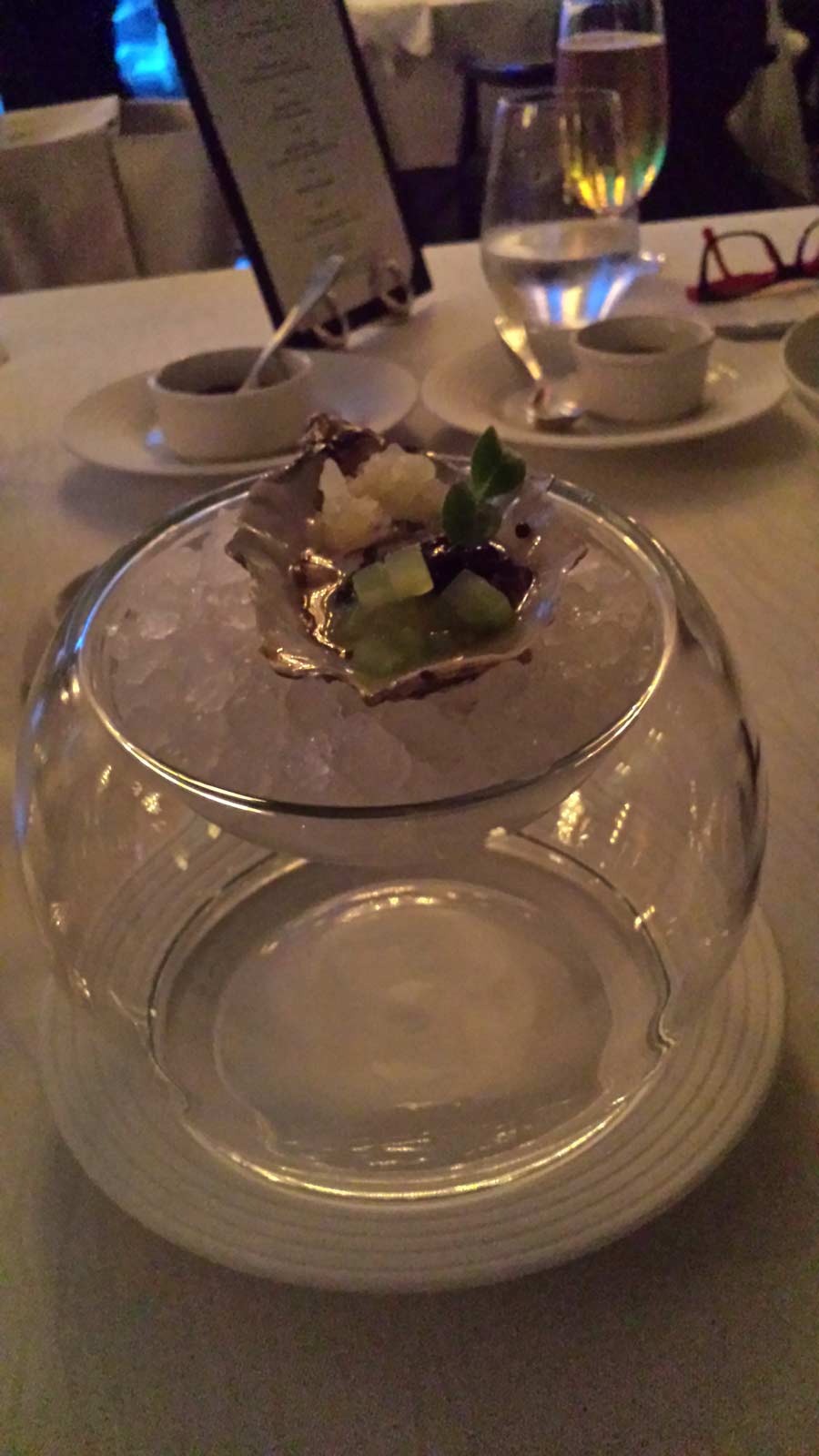 Yellowtail Carpaccio
My second dish was the Yellowtail Carpaccio. Again, the presentation was pretty good, minimalist French cuisine style. Unfortunately, the flavour just wasn't really there. The dressing and other components on the plate were simply not compensating for the little taste of the tuna. So pretty, but I won't add much more to it.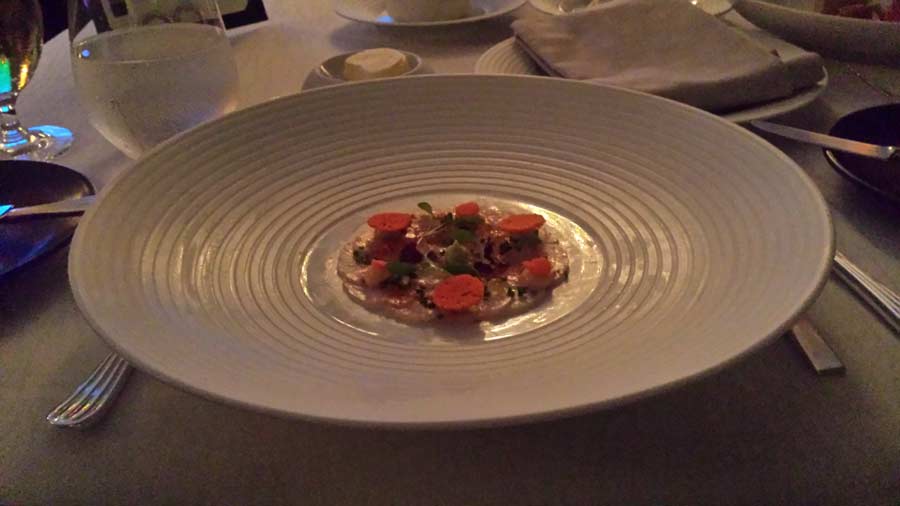 If you have ever had the pleasure of tasting a fantastic Foie Gras, this one will leave you disappointed. The dish was presented with Apple Chutney, Opaline; sadly, it was simply okay, but not noteworthy.
Caramelised Cod at Ossiano Restaurant
My next dish was the Caramelised Cod. I have to admit, I wasn't impressed about the Caramelized Cod on the menu at the beginning; however, I must say, when I tasted the first bite it was all a very different story. Every ingredient on the whole plate was working in harmony with each other and was full of flavour. This was the best Cod with pasta I ever tasted, and so far the best dish on the menu.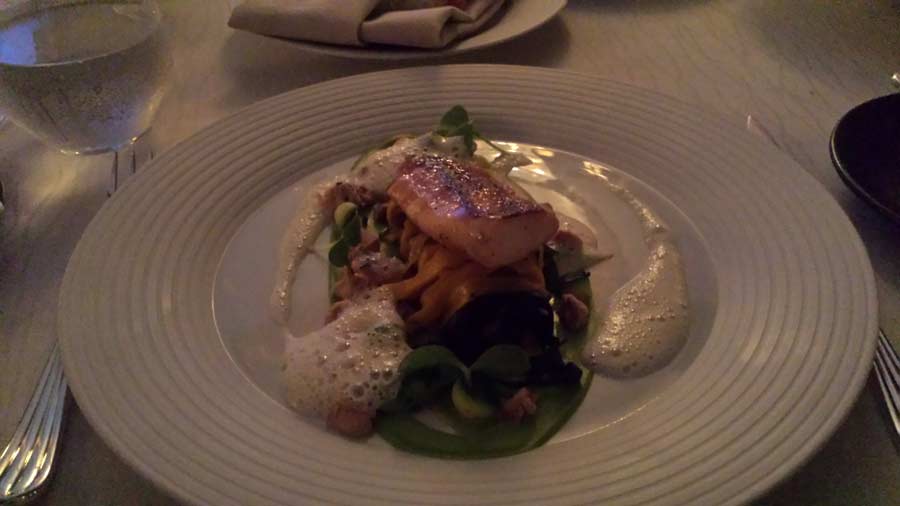 Tenderloin Wagyu beef
The Tenderloin Wagyu Beef was a disappointment following the Cod. The beef itself was tender and tasty, served with asparagus, wild mushrooms and truffle; however, it did not impress me particularly much. Again, this dish did not offer much to be noteworthy.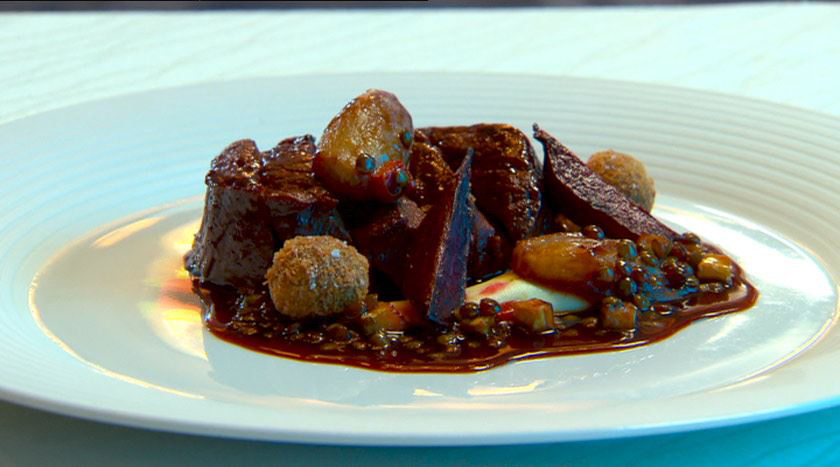 Vacherin-agrumes
Vacherin-agrumes , meringue and oragne-blossom.  We nearly at the end of this dinner within this beautiful restaurant.
As we neared the end of dinner at Ossiano, it was time for dessert. I had Vacherin Agrumes (Meringue and Orange Blossom Sorbet). The ice-cream was quite good in combination with the bitter fruit jelly; this gives a little bitter aftertaste to cleanse the palate.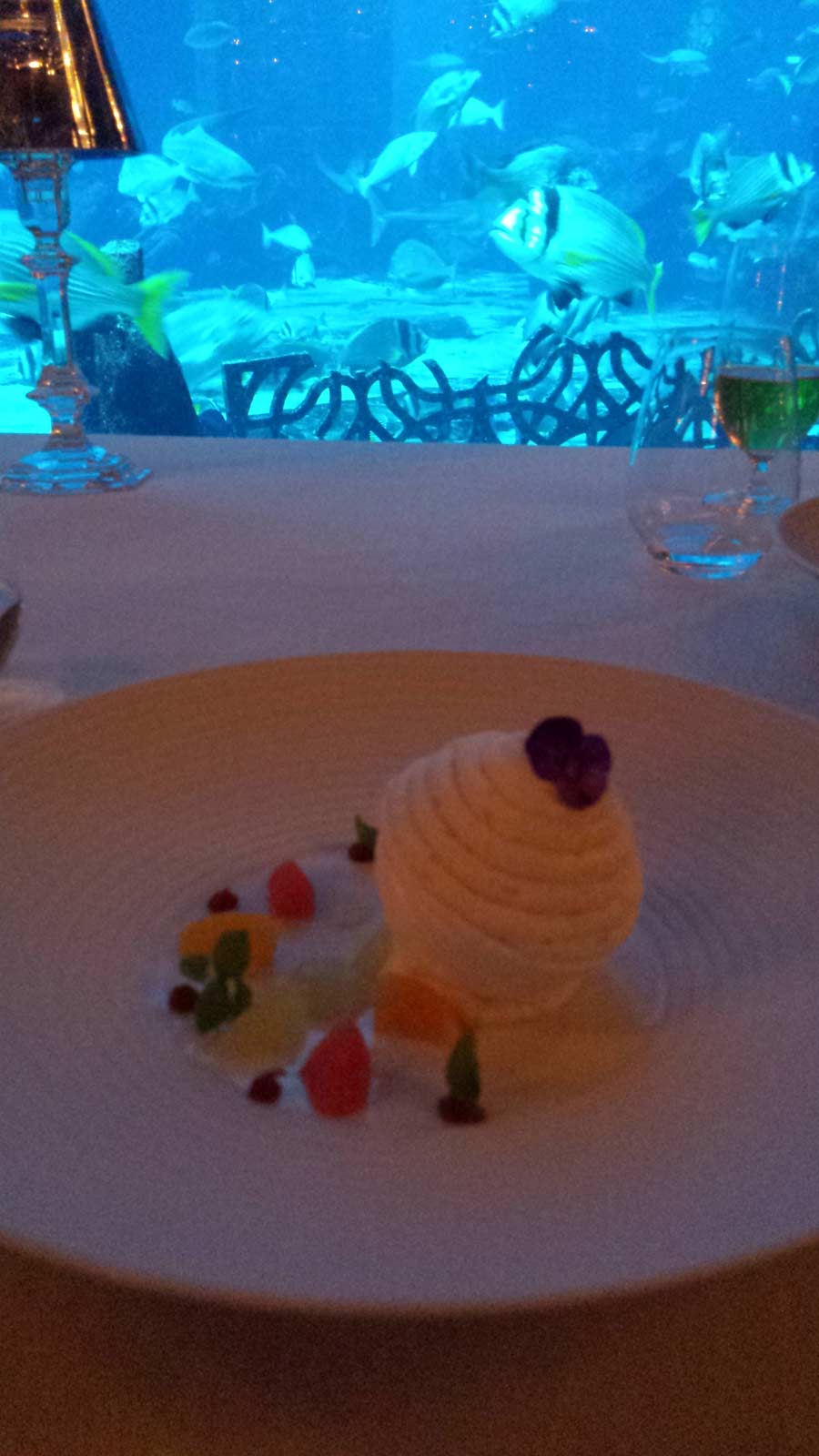 Final Ossiano Restaurannt Review Consideration 
Dining Experience
My recent visit to Ossiano left an indelible mark on my culinary journey. As you step into this extraordinary establishment, you are immediately transported to a world of wonder. The ambiance is nothing short of surreal, with the ethereal presence of marine life that gracefully glides through the surrounding waters. This unique setting creates an atmosphere that is both tranquil and immersive, making every moment a memorable one.
Moreover, the service at Ossiano is nothing less than impeccable. The staff's unwavering dedication to ensuring a remarkable dining experience adds an extra layer of charm to the entire affair. Their attention to detail and commitment to hospitality enhance every aspect of your visit.
Food and Menu
Ossiano's menu is nothing short of a culinary masterpiece. During my visit, I had the pleasure of indulging in the "experience menu," a meticulously crafted six-course tasting journey that promised to unveil the restaurant's culinary prowess. Each dish was a true work of art, meticulously prepared and presented with the utmost precision. What truly sets Ossiano apart is its ability to marry innovation and tradition, resulting in dishes that are not only visually stunning but also bursting with flavors that tantalize the taste buds. It's an experience that transcends the ordinary and leaves a lasting impression on discerning palates.
Drinks and Beverages
Beyond its exceptional cuisine, Ossiano also boasts an impressive selection of beverages. From a thoughtfully curated wine list featuring both local and international selections to specialty cocktails crafted with precision and creativity, the drink options at Ossiano are designed to perfectly complement your dining experience. Whether you're a wine connoisseur or a cocktail enthusiast, you'll find the perfect pairing to enhance your meal.
Service and Staff
The dedicated staff at Ossiano go above and beyond to ensure that your visit is not just a meal but a true culinary journey. Their professionalism is matched only by their genuine enthusiasm for delivering a delightful experience. Their in-depth knowledge of the menu and expert wine pairings is truly commendable, elevating your dining experience to new heights.
Pricing and Value
While it's true that Ossiano's prices fall on the higher end of the spectrum, the overall experience unquestionably justifies the cost. It's important to view dining at Ossiano as an investment in an exceptional and unforgettable dining adventure. Whether you're celebrating a special occasion or simply seeking a unique culinary experience, Ossiano offers unparalleled value in the form of exceptional cuisine, service, and ambiance.
Location and Accessibility
Ossiano's enviable location at Jumeirah Beach provides guests with breathtaking views of the sea. This prime location not only offers a serene backdrop for your dining experience but also makes it easily accessible. Ossiano is conveniently situated near various landmarks and attractions, allowing you to seamlessly incorporate it into your Dubai itinerary.
Conclusion
In summary, Ossiano is a dining destination that transcends the ordinary and embraces culinary excellence in a captivating underwater setting. If you're in search of an extraordinary and truly memorable experience in Dubai, I wholeheartedly recommend embarking on a culinary journey at Ossiano. It's a place where innovation, flavor, and ambiance converge to create a dining experience like no other.