Macellaio RC Clerkenwell London
Posted On 17th August 2020
Surf and turf Italian style.
Macellaio RC with its "RC" being the initials of the owner's name "Roberto Costa" is located in 38-, 40A Exmouth Market, London. With pink shades and the meaty entrance in the form of "Tuna" at one place while "Butchery" on the other. Walking just by it gives you the aroma and the cosy feeling of some tantalizing meaty dishes that are cooked the Italian way!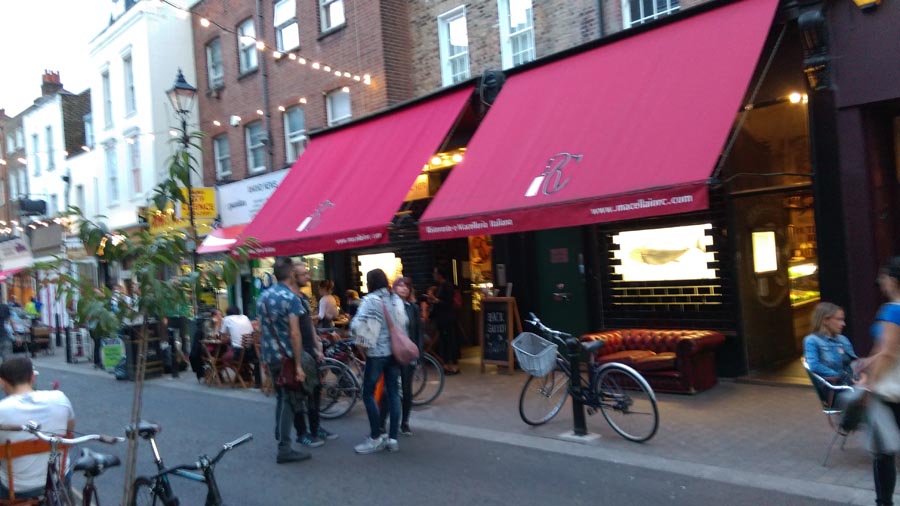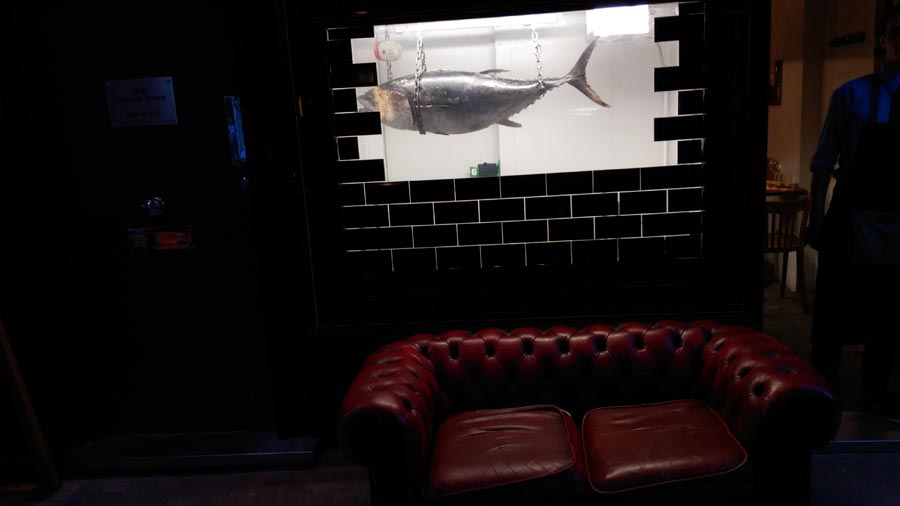 Macellaio Menu
The menu is just the way I like it; small, concise and limited. It as it seemed had been divided into the meat and not meat section which was further divided into Tuna and non-Tuna meat. Some would say that the menu is not big enough while for me it is perfect as it depicts that a restaurant is majorly focused on delivering its speciality.
After having gone through the menu, my eyes immediately stopped at Stake Tartare and Tuna as my starter which would alter be accompanied with T-Bone steak and Tagliata Nuda. And to end things on a high note, I received an amazing pair of 4 cheesecakes which definitely took my breath away. As for the wine, I went with their recommendations and ended up with getting Vald'aosta aged in oak barrels that went perfectly with my meaty evening!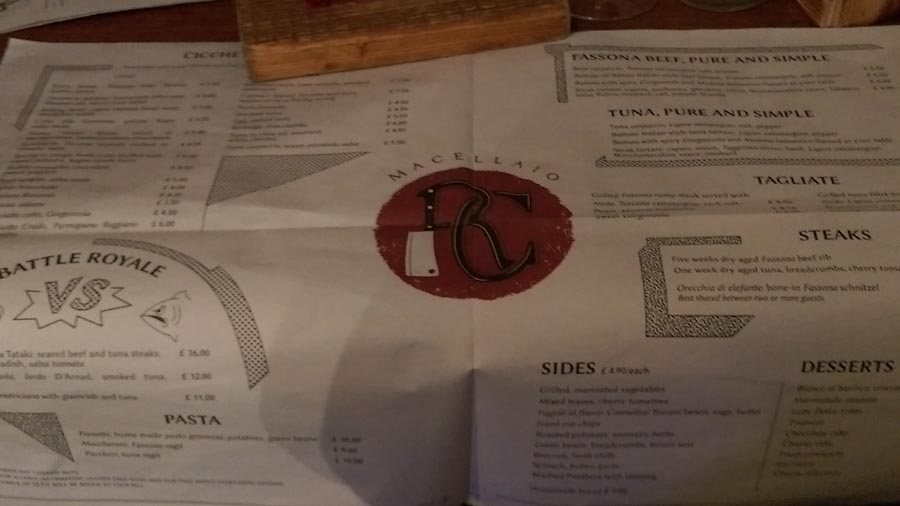 Wine
The wine as I mentioned before was inch perfect with the tender meat that was offered to me. Coming aged in oak barrels from vald'aosta, I enjoyed drinking every drop of it that blended in well with the dishes that I had chosen.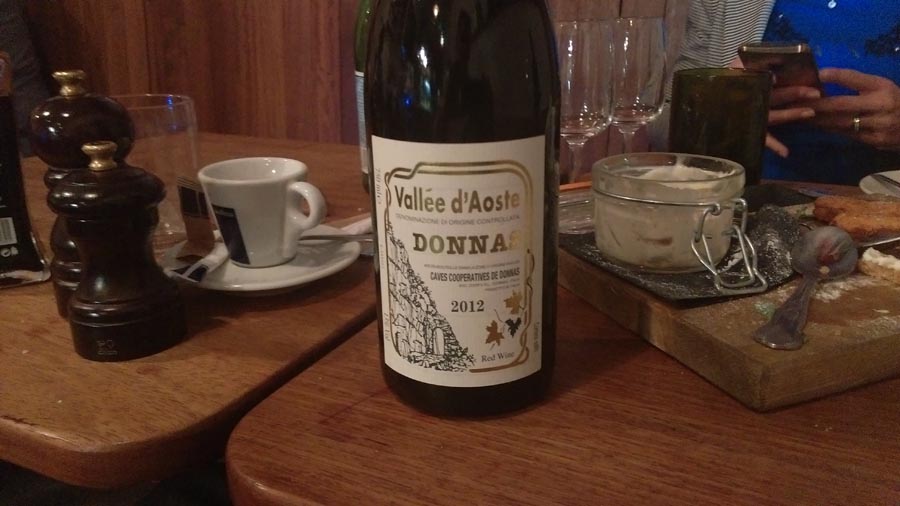 Steak Tartare
I certainly could not have asked for anything better than this. For a starter, I got the perfect blend of taste and quality. The dish had a good balance of the ingredients; everything there had a purpose and role which each of them lived to the full. A finely butchered and quality meat is the reason why this dish was the best that I had that night!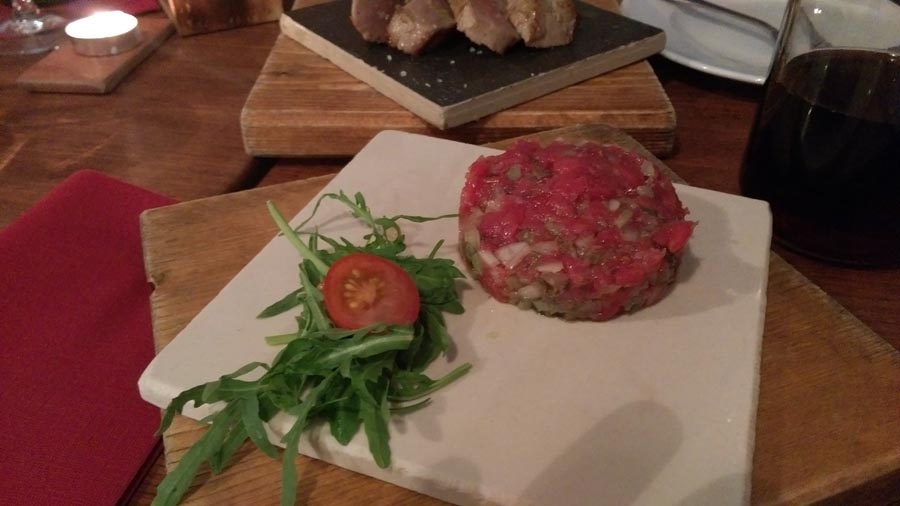 Tuna Fish
Despite the fact that I think Tuna was of good quality, for some reason or another, I did not match the same level of savouriness in the dish which I was expecting maybe because I was comparing it to the Tuna that I had in Sicily.
Tagliata steak
This restaurant is the first one which I have come across that has offered the concept of a "naked" meat which just has a pinch of salt in it. To my surprise, I did like it mainly because of the taste which was completely unexpected. As for the meat, it was quite tender and soft and as a result, it simply melted as soon as it was inside the mouth. Overall, I'd give it a rating of 7/10.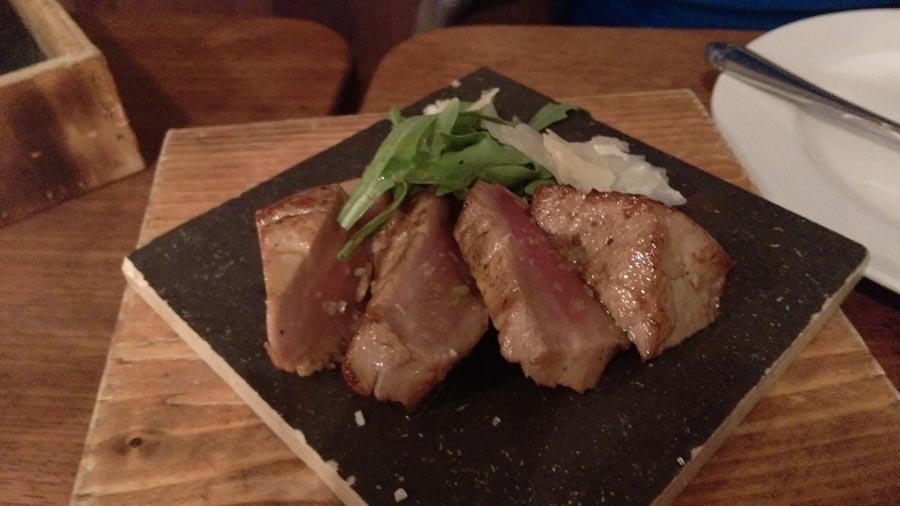 This dish certainly does not need any introduction. Everything about it was great – from the aroma to the taste! The dish carried the flavour which I thought came from the salt that was placed in the steamy steak. As for the meat, it was cooked to perfection and was utterly delicious and as for this reason, I would give it a 9/10.
Dessert
I had three different deserts, so I would start with the one I liked the most:
All this was offered by the Simone (the waiter) who I think of as Mr. Customer Service!!!
Philadelphia Cheesecake
The cheesecake was quite tender and soft and had a quite a thick layer of cheese that for me was paired perfectly with the homemade jam at the top and because of this, I rated it 7/10.
Dolce latte Fritto
The filling was good with the only thing that let it down was it being heavily fried from the outside and just because of this I have given it 5.5/10.
Fried Pavesini con Nutella
We all love Nutella, don't we? Well, the bad thing was that they used too little of it inside and along with that, it was also a little but powerful for me since I believe it was overfired to my liking. This is why I will rate it 5/10.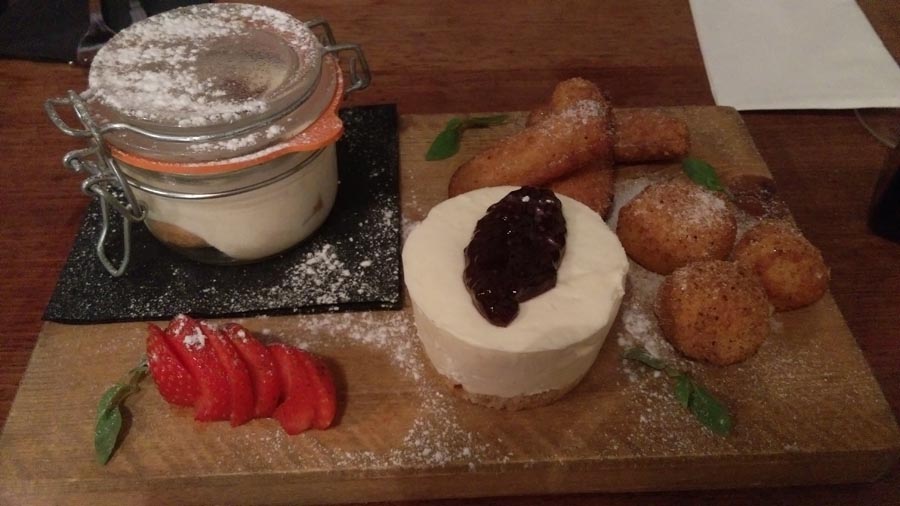 Reciotto
I would not be commenting much on that because I feel that the drink went perfectly with the cheesecake that they had offered. They certainly know how to make great paring between different food items!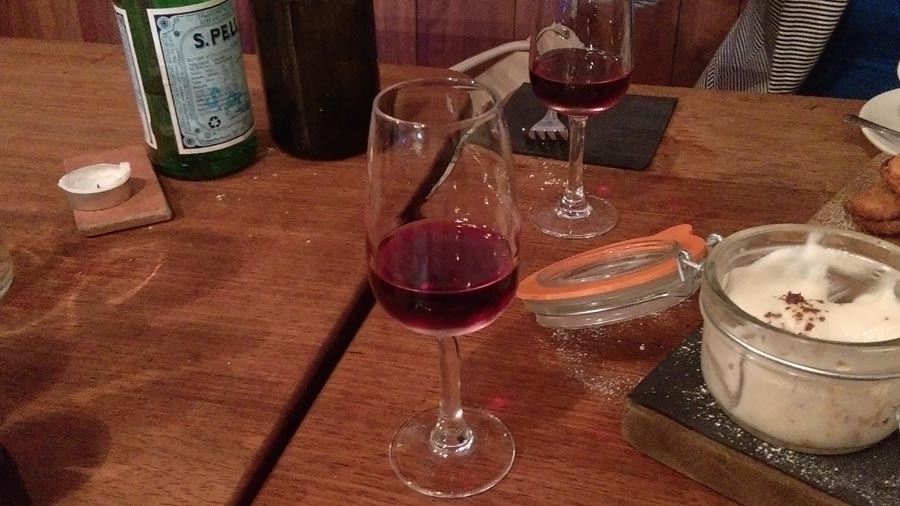 Ambiance
The Ambiance of this place went absolutely perfect and complimented fully to the food that was on the menu. With a big Tuna hanging at one side and with the butchers on the other, one would expect it to be a bit shaggy and noisy but to my surprise, it wasn't. On the inside, one would find simplistic settings as they have made use of mainstream interior design. To sum up, nothing much royal and neither anything fancy; a simplistic yet refreshing touch!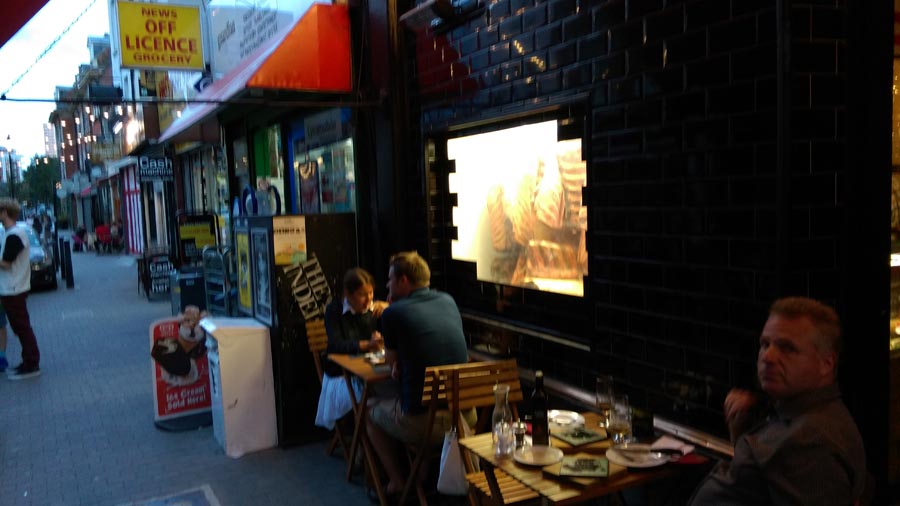 Service
In a sense, this was one of the most pleasurable experiences that I have had in quite a while. It was not only the food that met my expectations but it was also the astounding service from the staff who were always on their toes to serve their customers to the full. I would not have counted my experience under the "Good Ones" heading unless a nice plate of food is assisted by a fabulous service. It was quite amazing to see all of the passions that each staff was putting in. From the minimalistic details to paramount niceties; they certainly took care of everything and provided a very attentive service!
What I paid
The bill that I received at the end showed an amount of 124.46 pounds and upon comparing to other big names and upon taking a look at the list of items that I had; I feel what they charged was very fair and economical. The house offered me an amazing drink that went well with the course did I had. As per the rates that prevail in the streets of London, I feel that this restaurant give you a run for your money!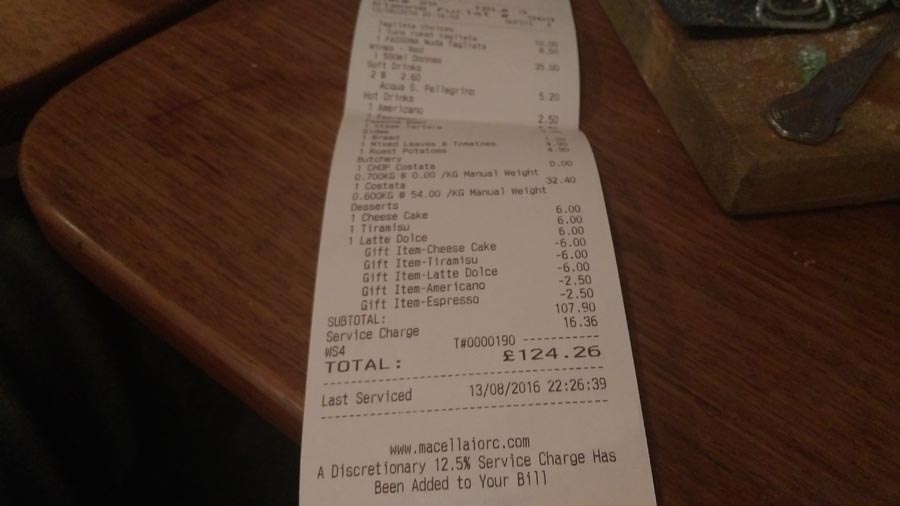 Overall
The overall experience was good. The best thing that I liked about this restaurant was the meat which obviously this restaurant is known for. Other than this, I believe they could turn their focus a little to their "Dessert Section" because if they are able to turn that around; the restaurant has the potential to offer a 360 experience to every fellow who enters its territory.